ExMplayer a.k.a. 'extended' Mplayer is a media player, converter and capable of playing 3D files with 3D playback options. The player is also capable of clipping a media file etc.

ExMplayer recently released version 5.0.0 with improved playback performance and thumbnail seeking, ability to conver video to animation. Version 5.0.0 change log can be found here.
ExMplayer Feature Summary
3D video playback support
Volume booster
Seekview
Audio extractor
Audio converter
Media cutter
Movie Animator
10 band audio equalizer
video equalizer
Winamp dsp plugins support
8 Audio effect filters
17 Video effect filters
Configurable keyboard shortcuts and mouse
How to install – using Terminal
To install ExMplayer in Ubuntu using terminal run below commands in sequence. Enter password when prompted.
sudo add-apt-repository ppa:exmplayer-dev/exmplayer
sudo apt-get update
sudo apt-get install exmplayer

Run
Type ExMplayer in dash. Click the launcher icon.
From Gnome menu, find it under Applications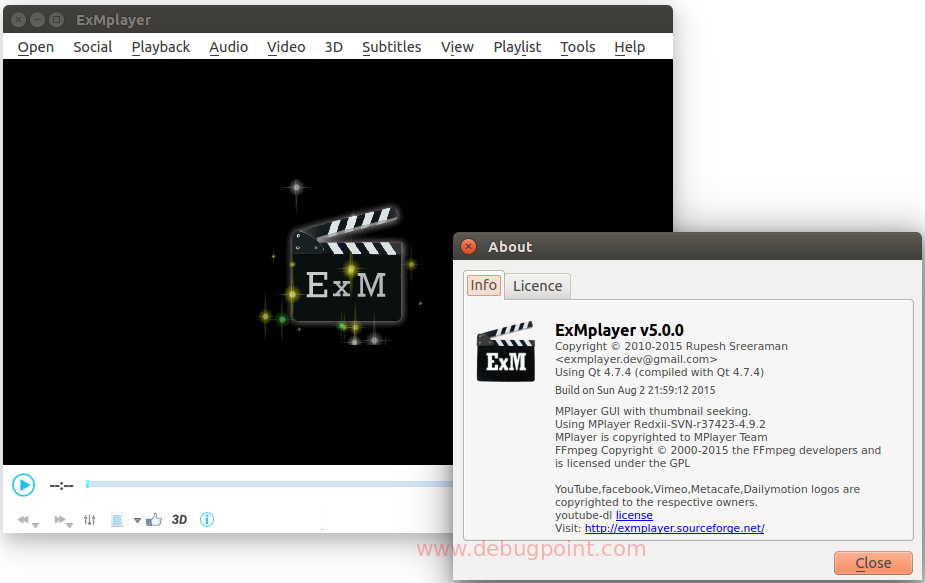 Links
Troubleshooting and Support
If you face any issues while installing or using ExMplayer, you may drop a note using comment section at the end of this article, Or you can post your query in any of the support channels mentioned below.
How to uninstall
To uninstall ExMplayer run below commands in terminal.
sudo apt-get remove exmplayer

Image Credits
ExMplayer
Using Mastodon? Follow us at floss.social/@debugpoint