This is how you can install and use Viber in Ubuntu 18.04, 18.10, Linux Mint 19 and other Linux distributions.
Viber is a communication app, widely used for free secured calls and messages across the world. It has some unique abilities such as call switching from your mobile phones to Linux desktops among many things.
This free app is available for Windows, Linux (all distributions including Flatpak), Mac, Android and iOS.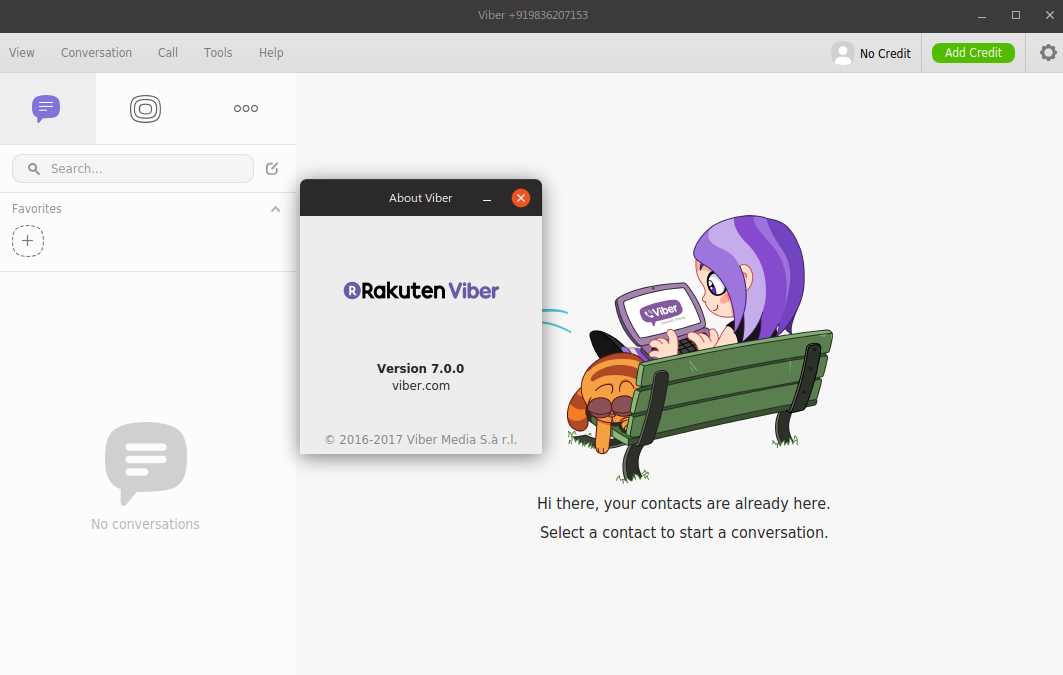 Here are some of its features.
Viber Features
Audio and Video calls
Group Text Chats
Audio and Video Messages
Stickers and GIF Support
Delete Sent messages
Multi platform support with sync (you can sync call history etc between Mobile and Desktop)
End to end encryption
Chat extensions
Hide Chats with password!
Self-destructing chats
Control your online status
How to Install
Please note, if you want to use Viber in your Desktop (Linux, Mac or Windows), you have to install Viber in your mobile phone after installing from Play Store Or App Store and then sync them.
To install Viber in Ubuntu 18.04, 18.10, Linux Mint 18/19, elementary – download the deb package from below link, directly from Viber website:
Download Viber .deb (approx 95+MB)
Once downloaded, double click to start the installation.
Flatpak
Viber is also available as Flatpak package, follow below link to get the Flatpak package and start installation. If you are running Ubuntu, you might want to enable your OS to accept Flatpak before head over below.
Other Download Options
For other download options – RPM package for Fedora, Windows and Mac packages, head over to this link.
Configuration
After installation, open Viber from application menu. It will ask for your mobile number which was registered in Android/iOS App already. Enter the mobile number and in parallel open the Viber app in your mobile.
In the next window, scan the QR code displayed in your desktop using your mobile's viber app. If everything goes fine, your Viber app in desktop and mobile both will be connected. Now you can start using Viber in Linux.
Summary
This is how you can use Viber in both desktop and mobile via connecting both. Though it is a closed source product (but free), it is indeed an amazing messaging app out there having official Linux client.
Drop a comment below if you are facing trouble using/installing Viber.
Using Mastodon? Follow us at floss.social/@debugpoint