MyPaint is a fast and easy open-source graphics application for digital artists with ability to work on pressure sensitive graphics tablets. It lets you focus on the art instead of the program. You work on your canvas with minimum distractions, bringing up the interface only when you need it. It comes with various pencils brushes that emulates real pencil and brushes.

MyPaint version 1.2.0 is ready for release and available to download.
MyPaint Feature Summary
Works with pressure sensitive graphics tablets.
Simple and minimalistic user interface
Extensive brush creation and configuration options
Unlimited canvas (you never have to resize)
Basic layer support
Large Brush collection
Advanced Color Selectors
Layer support and management
Large collection of brush presets
For more feature list click here.
How to install – using Terminal
To install MyPaint in Ubuntu using terminal run below commands in sequence. Enter password when prompted.

sudo add-apt-repository ppa:achadwick/mypaint-testing
sudo apt-get update
sudo apt-get install mypaint

Run
Type MyPaint in dash. Click the launcher icon.
From menu, find it under Applications.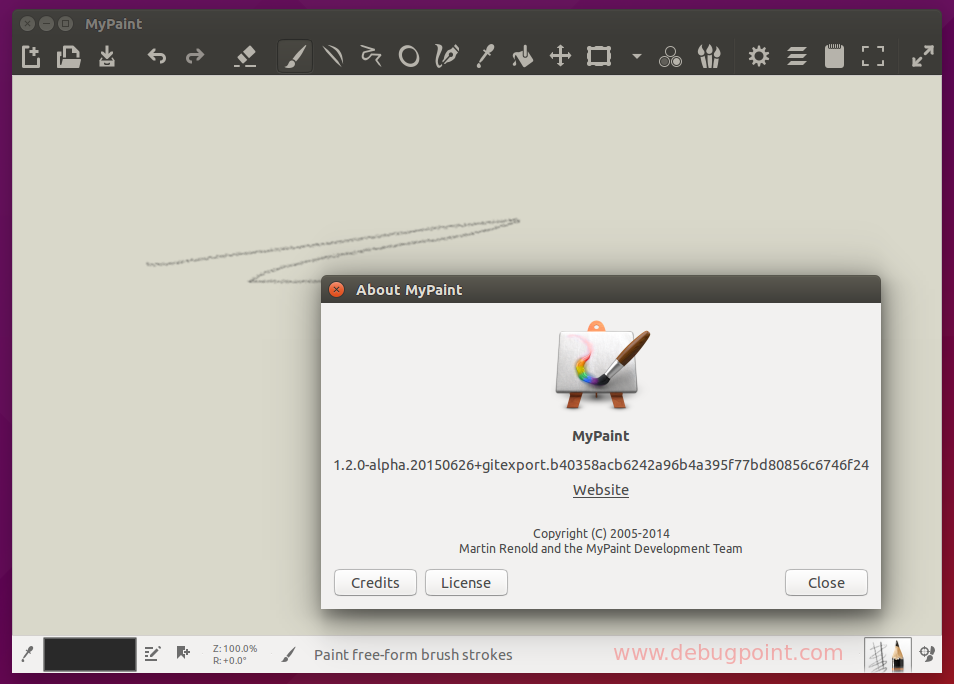 Links
Troubleshooting and Support
If you face any issues while installing or using MyPaint, you may drop a note using comment section at the end of this article, Or you can post your query in any of the support channels mentioned below.
How to uninstall
To uninstall MyPaint run below commands in terminal.

sudo apt-get remove mypaint

Image Credits
MyPaint
Using Mastodon? Follow us at floss.social/@debugpoint