We review the best Arch Linux distros available in 2023 and explore their key facets to consider before you choose them for your workflow.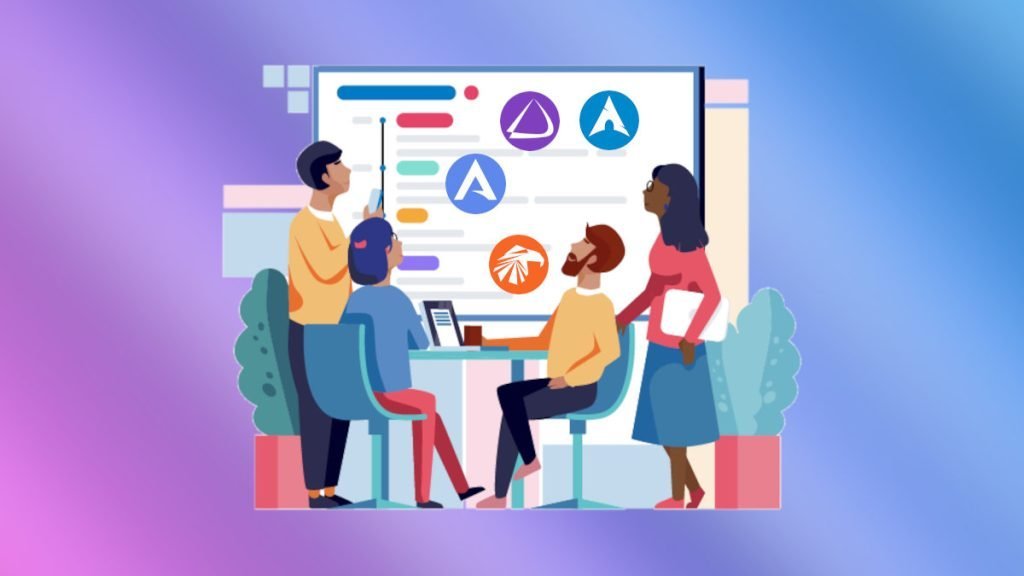 If you are a Linux enthusiast looking for a powerful and flexible operating system, then Arch Linux is worth considering. Arch Linux is known for its flexibility, customization options, and minimalistic design.
It is a popular choice among Linux enthusiasts who prefer a DIY approach and want to build their system from scratch. The developers, programmers, and gamers often opt for Arch Linux because it uses a rolling release model, which ensures access to the latest applications and modules.
However, setting up Arch Linux can be daunting, especially for beginners. That is why several Arch Linux-based distros are available that aim to make the installation and setup process easier and more user-friendly.
There are not many Arch Linux-based distributions available compared to Debian-based distros.
But how can you decide which one is best for you?
Well, there are several factors you can consider which is common for general use cases. A few criteria can be listed as follows:
Ease of installation (single or dual-boot)
User-friendliness
Customization options
Pre-configured software packages
General maintenance
Specialist hardware support
Community help
In this list of best Arch Linux distros, we explore the best ones available and see how they fit common users with the above pointers.
Top 5 Best Arch Linux Distros for all
EndeavourOS
EndeavourOS is a lightweight and user-friendly Arch Linux-based distribution that aims to provide a hassle-free Arch Linux experience. It comes with a pre-installed desktop environment and pre-configured software packages, making it easy to start with Arch Linux.
It is one of the new Arch Linux distros launched three years ago. But within a short span, it became popular due to its unique way of handling the Arch Linux user experience.
The reason why it is number one recommended at the moment:
It uses a friendly Calamares installer, which works wonderfully for dual boot or a standalone system.
Provides specialized hardware support, such as NVIDIA drivers & ARM images
Community help of EndeavourOS is fantastic, with faster response in the Telegram channel & forums.
First-time users get friendly on-click tasks for managing and updating Arch Linux systems.
It comes with modern desktop environments such as Xfce, KDE Plasma, GNOME and a few window managers.
Well-versed technical team with a solid goal to provide the best Arch Linux distro experience
Give it a try using the download link present below. We also have installation guides and a review of Endeavour OS if you want to explore further.
Manjaro Linux
The second distribution in this list is Manjaro Linux, which is another good Arch Linux distro and is time-tested. The primary goal of this distro is to make Arch Linux accessible for beginners to advanced users by providing out-of-the-box features.
Here are some of the key features and advantages of Manjaro Linux which make it the perfect Arch Linux distro for everyone:
User-Friendly Interface & desktop environments: Manjaro Linux comes easy to use interfaces with Xfce, KDE Plasma, GNOME, Budgie, Cinnamon, and MATE desktop offerings. In addition, you can get i3 and Sway window manager flavours
Stability and AUR support: Majaro gets updates within a few days of major Arch updates. Plus, it comes with an Arch User Repository (AUR) set up, providing massive software collections.
Desktop management: Comes with Pamac software manager for easy GUI-based installation of software and packages.
Installation: Calamares installer makes installing in dual-boot or standalone systems easy. Also, you can buy OEM laptops with Manjaro & which come with Docker images too!
Community support: Since Manjaro usage is high among all the Arch Linux distros in this list, you can get plenty of solutions to your problems on the web. In addition, the Manjaro forum support is excellent.
You can download Manjaro Linux using the link below. To explore further, read the Manjaro Linux review, which we published recently.
Garuda Linux
The third Arch distro in this list is Garuda Linux which primarily targets users who want an Arch distro for gaming. However, you can use it for other purposes as well.
It comes with almost all popular desktops and window managers such as KDE, Xfce, GNOME, LXQt-kwin, Cinnamon, Mate, Wayfire, Qtile, i3wm and Sway. So, plenty of options for you.
One of the best offerings of Garuda Linux is the default BTRFS file system with zstd compression for better performance in your modern high-end hardware.
Here are some key features and advantages which make it stand apart:
Ready for Arch Linux-based gaming
Built-in support for Steam and Lutris with GameMode and Gamemode-Tools
Options for all major desktops and window managers
Looks beautiful with a custom theme and icons
A vast collection of pre-compiled packages with popular Chaotic-Aur
ArcoLinux
ArcoLinux is a user-friendly & advanced Arch Linux-based distribution that comes with a pre-installed desktop environment and a set of pre-configured software packages. It also includes tools and scripts to make the Arch Linux experience more user-friendly.
ArcoLinux is a little different than all the distros in this list. It has four different offerings, and they are as follows:
ArcoLinux XL: Flagship variant with a complete package, comes with Xfce
ArcoLinux XS: Minimal variant with mainline, LTS, Xanmod and Zen Kernel options, comes with Xfce
ArcoLinuxD: Minimal variant with no desktop or packages; install your own
ArcoLinuxB: Minimal variant with the option to select your desktop and minimal software
As you can see, it's pretty unique in its design. Furthermore, if you are Arch Linux enthusiastic, you can try ArcoLinux, and it will be a great learning experience for you.
The team also provides 1000+ videos on various guides for ArcoLinux. Head over to the below link for download. Also, if you want to learn more about the various offerings, visit this page.
ArchLabs
Remeber BunsenLabs Linux? ArchLabs Linux aims to be the minimal Arch Linux distribution with the look of BunsenLabs Linux.
It features the dk window manager, tint2 panel, and a variety of preinstalled applications designed to provide a simple and efficient desktop environment. ArchLabs Linux is highly customizable and offers a variety of tools and scripts to make it easy for users to configure and personalize their systems.
It is a popular choice for users who want the benefits of Arch Linux's flexibility and rolling release updates but prefer a more user-friendly and pre-configured desktop environment.
A perfect distro for everyone who loves minimalism and window manager with Arch Linux.
---
A few more Arch Linux Distros
So, the above ones are the best five in our opinion. However, some more Arch Linux distros are equally good, but usage is probably less compared to the above list.
Here are some of them and why they are equally best.
Mabox Linux: It is a user-friendly, lightweight Linux distribution based on Manjaro Linux. It features the Openbox window manager, a simple and efficient desktop environment that can be customized to fit the user's preferences.
Archcraft Linux: It is a minimal Linux distribution based on Arch Linux. It uses window managers and lightweight applications, which makes it super fast. It comes pre-configured with various settings, providing you with the best out-of-the-box window manager experience. Archcraft Linux is installed using the Calamares system installer and includes the yay package manager to facilitate fetching software from the Arch User Repository.
Bluestar Linux: It is a Linux distribution that uses Arch Linux as its base. It aims to provide a solid operating system with a wide range of functionality and ease of use without compromising aesthetics.
Other new distros
Furthermore, a few Arch Linux distros are recently launched and offer a different take on Arch Linux. These try to be unique in various factors. Here are some of them and their key distinguishing characteristics.
You might want to check them out to explore Arch-based distros further.
Conclusion
In conclusion, Arch Linux is a highly customizable and flexible distribution many advanced Linux users favoured.
Whatever your need or workflow, you can try something in this list. Try any of the first three distributions in this list when in doubt.
While it can be intimidating for beginners, these Arch Linux distros aim to provide a more user-friendly experience without sacrificing the flexibility and customization options that make Arch Linux so popular.
I hope you find and settle with your comfortable Arch Linux distro that can meet your needs.
Using Mastodon? Follow us at floss.social/@debugpoint