Blender is a free and open source professional computer graphics software used for creating 3D graphics, models, interactive 3D applications and video games.
What's new in Blender 2.77
Cycles Rendering has better Subsurface Scattering, GPU support for Smoke/Fire and Point Density, and a few other features and optimizations.
User Interface has faster OpenGL rendering and better Anti-Aliasing, and other improvements
Modeling now has an edit-mode boolean tool, better decimate modifier, selection tools
Sequencer has a Gaussian Blur effect speedup, and other strip and modifier improvements
Sculpting/Painting has better extruding and weight painting tools
Animation has a new constraint interpolation method, and improvements in graph editor, dope sheet, armatures and motion paths
Grease pencil now has stroke sculpting, and several other workflow improvements
Library handling has been improved to better manage missing and deleted datablocks
Game Engine has a few new small features
A new Add-on supports packing .blend files and their dependencies, some other IO Add-on was improved, and Python was upgraded
OpenVDB caching is now supported for smoke/volumetric simulations, multithreading is now massively supported, and also 2D stabilization node, Image editor, Cubemap and spotlights were improved
Support for Windows XP was removed, and the SCons build system too.
Lots of bug fixes
— Notes from www.blendernation.com
System Requirements
Due to the nature of the software, blender needs above average hardware.
Find the minimum and production grade system requirements here.
How to Install Blender
Debian, Ubuntu, Linux Mint, elementary
Installation via Terminal using PPA
sudo add-apt-repository ppa:thomas-schiex/blender
sudo apt-get update
sudo apt-get install blender

If you want to grab the latest 2.77 tar file, download from below link and execute blender after extract.
Download Blender 64 bit  Download Blender 32 bit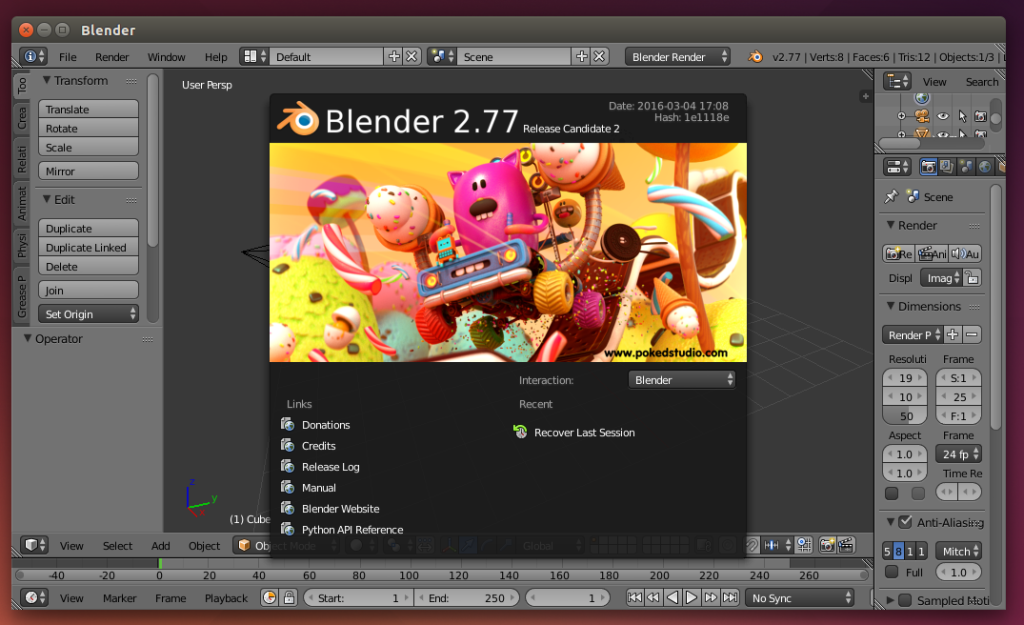 Links
Troubleshooting and Support
If you face any issues while installing or using Blender, you may drop a note using comment section at the end of this article, Or you can post your query in any of the support channels mentioned below.
Donate
Blender is a free software. You can support its developments by donating, you can find more details using below link.
How to Uninstall/Remove Blender and the PPA
Via Terminal
sudo apt-get remove blender
sudo ppa-purge ppa:thomas-schiex/blender

Image Credits
Blender
Using Mastodon? Follow us at floss.social/@debugpoint